Rashid - Smart City Assistant
Get credible and reliable advice on a range of city topics from Dubai's smart city assistant, Rashid.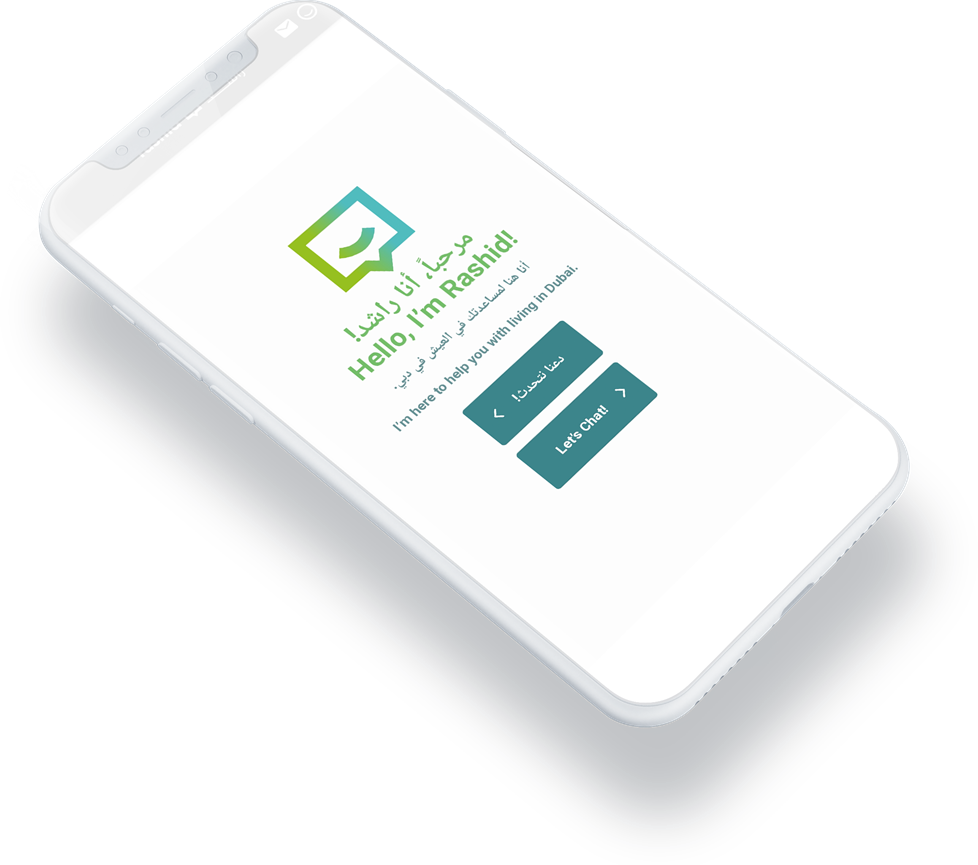 What is the Rashid Project?
Digital Dubai debuted its AI-powered advisor "Saad", later renaming it "Rashid" to honour H.H. the late Sheikh Rashid bin Saeed Al Maktoum, the pioneer of Dubai's renaissance. The programme uses artificial intelligence to offer official and reliable answers to customers' questions regarding the necessary procedures, documents, and requirements to conduct various transactions – all according to the extensive database partnered with many Government entities in the Rashid project.
As the first cognitive computing system in Dubai, Rashid aggregates information from the databases of various government and private entities in the emirate, making it the virtual assistant that can answer questions about living and working in Dubai; citizens, residents and tourists may refer to Rashid as their trusted advisor on many topics, such as starting business, transportation, licensing, visas and residency, passports and certificates attestation, in addition to entertainment, parks, shopping and more.
Going one step further, Digital Dubai upgraded the system with an advanced tool allowing participating government entities to update information about their services seamlessly and autonomously, thus ensuring consistent up-to-date responses.
Dubai Pulse
Dubai Pulse is the digital backbone powering the Smart City, to help spread happiness among all Dubai residents and visitors. Dubai Pulse Main Products: * API Management: This service helps organisations get the most out of a variety of data sources and consume such sources, via APIs, in easy packages that are tailored to their preferred methods and consumption profiles. * IOT as a Service: This product includes offering the IoT Platform to the customer; the customer will avail the IoT Dashboard for the IoT tenant created on the platform along with device onboarding and management. * Infrastructure as a Service: Infrastructure as a Service (IaaS) provides the basic resources (servers, storage, network, and virtualisation) enabling more efficient use of those resources. * Platform as a Service: Platform as a Service (PaaS) is a Cloud service that provides partners the control to deploy, manage and run applications they created, using specific execution environments supported by the underlying platform. * Analytics Services: This service provides data related to the Road and Transport Authority (RTA), such as ridership information of Dubai Metro, Dubai Tram and Dubai Bus, respective station names and number of riders.