DubaiNow App
DubaiNow is the app for all your city services. It is the first and only Dubai Government application that provides you access to more than 170 government and private sector services from over 35 entities. We aim to offer you a one-stop-shop experience for all your Government interactions, available seamlessly and safely at your fingertips. We are always adding more services to save you time so you can do the things you love. For a seamless user experience on the app, users need their UAE PASS account to log into DubaiNow app, which provides an easy single sign-on process and a safe journey while using the app's different services.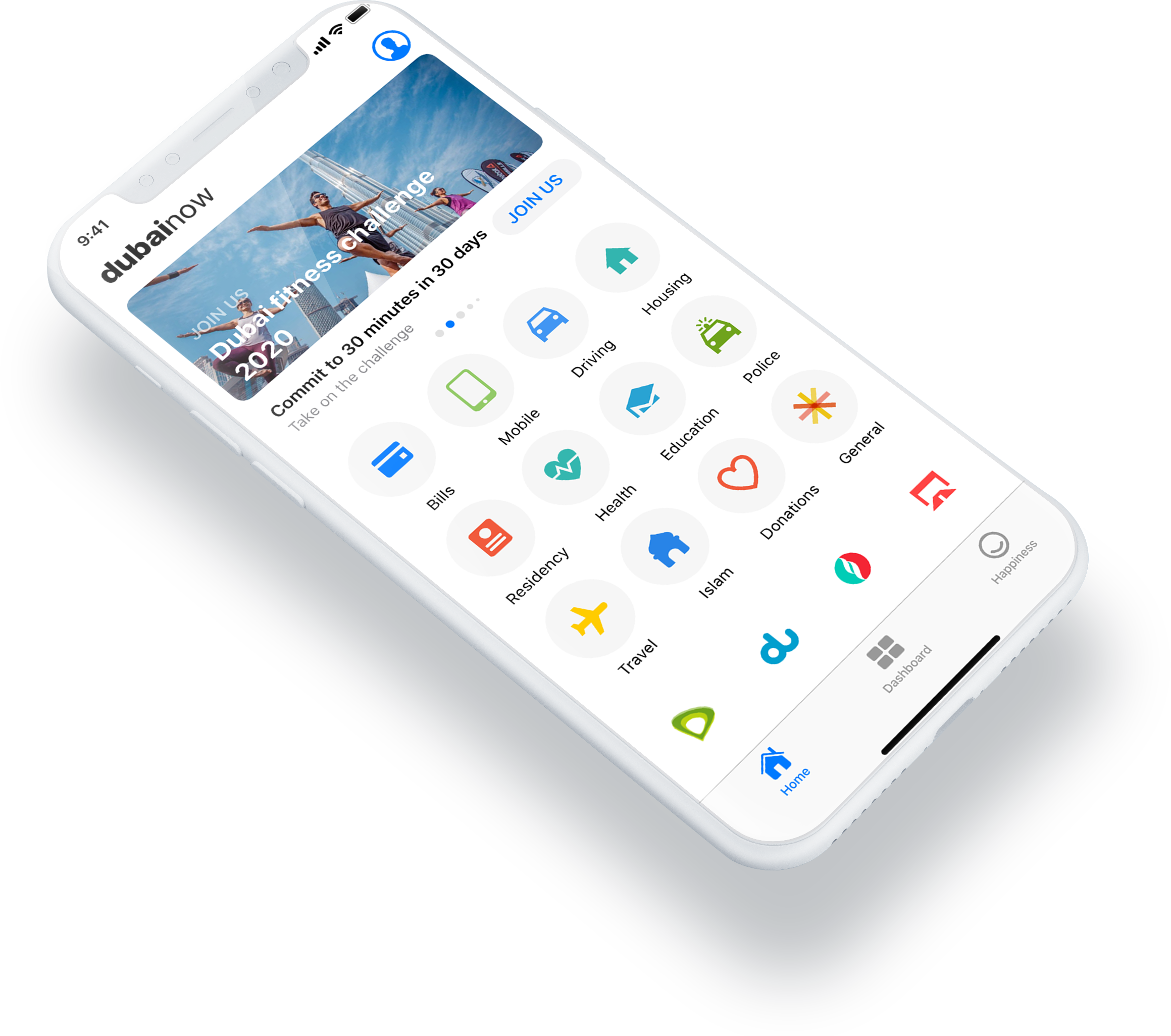 Why choose DubaiNow?
Variation of services covering all main city experiences for citizens, residents, and visitors
Safe and easy payment solutions for your payments and transactions
One app that alternates many other apps, saving your time and effort; also, a friendlier option for our environment in the age of data clouds
Easy access with unified credentials to all your daily transactions and services
DubaiNow Services

DubaiNow provides you access to more than 170 government and private sector services from over 35 entities. The services range from transportation, health, education, housing, to bill payments, and much more." Examples of the services as shown below, we can select some of them to be emphasized on specially the Emirati and the new services. Below are the main categories and suggested services for your reference :-
Emirati Services: +60 services onboarded for locals like Social benefits, Ferjan Events, request housing grants (land, construction or replacement), pest control etc.
Pay Your Bills: Pay your DEWA, Etisalat, Du, FEWA, Empower and Dubai Municipality bills and fees. Top up your Salik, NOL, and Dubai Customs accounts
Manage Driving Services: pay all your traffic fines, Renew your car registration, Top up and update Salik account, Pay for parking, Pay for petrol at ENOC stations, Purchase and manage your seasonal parking, Buy or sell your Dubai car, View real time information on the locations of traffic accidents, Find locations of Tasjeel centers, EV chargers and fuel stations.
Manage Housing Services: Pay your DEWA bills, View your DEWA accounts, View your DEWA consumption details, Sign a tenancy contract and get your Ejari, View and manage the properties that you own and rent, View the Rent Increase Calculator from RERA, Order services for your home such as moving, painting and cleaning, Verify any Dubai title deed.
Manage Residency Services: Get, renew, or cancel residency sponsorship for your spouse and children, View all residency visas and entry permits of your dependents, Track the status of visa applications and entry permits for residents and visitors, Request and receive official travel and dependent reports from GDRFA
Manage Health Services: View and manage your and your family's medical appointments, lab results and prescriptions. Keep track of your child's vaccination plan, Find all doctors including visiting doctors, clinics and hospitals, My MRN.
Manage Education Services: School directory name, parent-school contract, Apply for academic history of your children, Browse the official Dubai university directory, Search for training institutes in Dubai and view their details.
Police and Security: Apply for a Police Clearance Certificate, Find the nearest Dubai Police Station, Inquire about the status of Dubai Court cases, Call emergency numbers such as Dubai Police, Ambulance, Fire Department, and DEWA.
Travel Services: Check real time flight information, Submit lost and found claims to Dubai Airport.
Islam Services: View daily prayer timings, Find your nearest mosque, pay for Zakat and Iftar meals and view a countdown Imsakia
Donations Services: Dubai Cares, Noor Dubai, Dar Al Ber, Suqia, Inmates, Beit Al Kheir, AWQAF, Al Jalila and more
And More: explore Dubai city sites and city events around you, adopt pets, create digital business card, etc.
Excellent app. Great time saver. Would be great if the option of paying parking via credit card (not sms) is added, as in the RTA app.
This App has multi features and have interfaces to many Dubai government and semi government services. Keep it up
I make all my Etisalat and Salik payments here and have been for a few years. Two taps and you're done! Great UI and UX especially after the recent update for iPhone X. The dashboard is just great and shows all the important information I need. Thank you for this app, exactly what every Dubai/ UAE resident needs to make seamless government payments!
Great. All gov bills and services in one nice neat app
I frequently use the application. I pay my bills and use it all the time at petrol stations. Zakat Al Fitr feature is very useful. It saves a lot of time. It is great having this kind of features online. Please keep bringing us new features.
Amazing app, very convenient and reliable with a very friendly user experience that makes government services better than many commercial companies! Loved the petrol payment service.